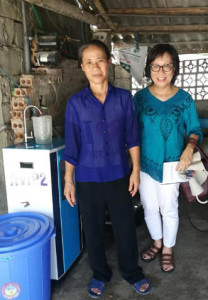 Huyện Vĩnh Trụ, Hà Nam là một trong 4 địa điểm được khảo sát và tìm thấy nguồn nước nhiễm thủy ngân với độ đo 348 micro-gram mỗi lít, cao hơn mức chuẩn là 10 micro-gram. Nguồn nước nhiễm thủy ngân sẽ gây ra các hệ lụy như ung thư da, bướu, tiêu chảy. Trẻ sinh ra cũng bị tỷ lệ tử vong cao, bị các chứng ung thư, tim mạch, các rối loạn khác liên quan tới phát triển trí tuệ và trí nhớ. Tại những vùng trồng lúa giáp ranh sông Hồng như Chuyên Ngoại, thủy ngân sẽ len lỏi vào hoa màu, gây ô nhiễm cho người tiêu dùng.
Úc đã tài trợ các dự án đo đạc, lọc nguồn nước sạch dựa trên Khung đánh giá chuẩn môi trường của Úc. Vào tháng 5, chị Đỗ Anh Thư / VNHelp tham gia cùng với các đoàn nước ngoài khác từ Mỹ, Thụy điển, Gia nã đại đi thăm một cơ sở lọc nước sạch.
Mang nước sạch lại cho người dân để bảo vệ sức khỏe cho cả thế hệ sau cũng là một ưu tiên hàng đầu của VNHelp.
Cảm ơn nước Úc.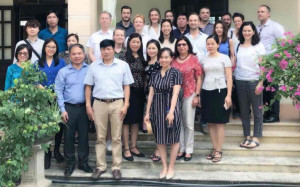 The Australian government funds several researches, measurements and setting up clean-water processing stations in the area. In May 2019, Thu Do/VNHelp along with other delegations from America, Sweden, Australia and Canada came to visit such a clean-water processing site.
Bringing clean water to the disadvantages has always been one of the top priorities of VNHelp as we strive to project health of both current and future generations.
 Thank you, Australia.